Sanity Notes #023- When should you hire an assistant?
If you are asking the question, you are probably waiting too long.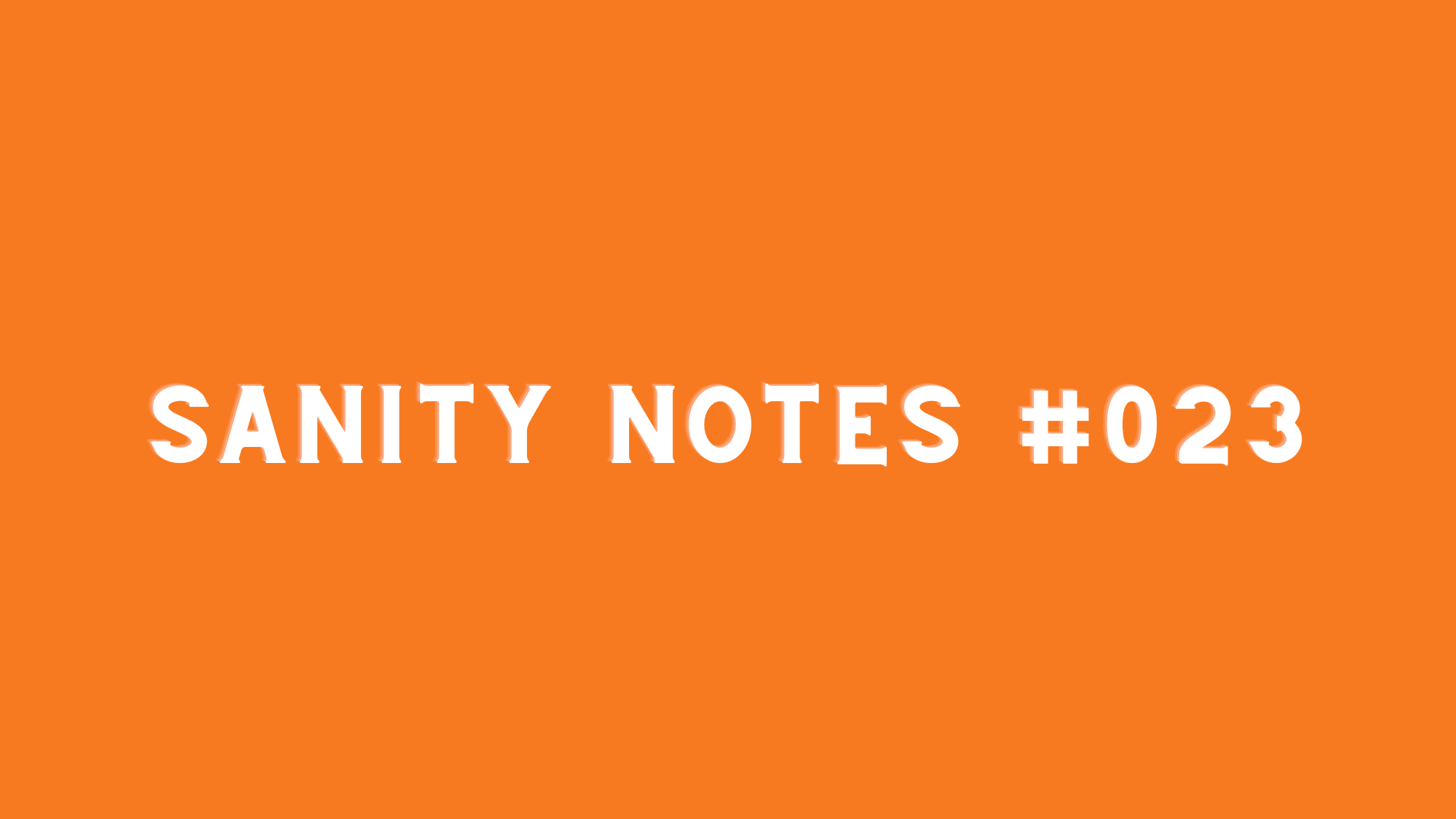 Looking for some support? If now is the time to consider coaching (or a CEO peer circle) reach out here.
People are shocked when they discover how much of my life is run by my assistant. I have worked with the same incredible woman for nearly a decade. If you have interfaced with me in any capacity over that timeframe, you have most likely met and been charmed by Lennie.
Lennie handles everything in my life I can possibly give her. She does so from a working dairy farm in Idaho where she also raises her two boys and supports her aging grandparents and her horses. Lennie is a gem.
Lennie has complete access to my bank accounts, investments, home security system, taxes, and the group email threads of my children's schools. If I can hand it to Lennie, I do.
Lennie helps my life run in a very valuable way: when I am working, I am doing high-impact work that only I can do. When I am not working, I am spending quality time with my family and friends, playing, or resting.
I spend next to zero work-time doing things outside my zone of genius. I am either in a coaching session or writing. Outside of those two activities, I probably spend two additional hours each week to make Sanity Labs run. All the other administrative details fall to Lennie.
I pay Lennie more than market. We have been together for a long time and I enjoy doing so. Lennie is not market.
That said, you can find your own Lennie. They are out there.
If you are thinking how nice Matt, you are later in your career, in a different financial position, of course you have an assistant. How could I ever have one?
Most of you hesitating are probably doing so at your and your company's peril.
You can hire a highly-effective, part-time virtual assistant for $15-20 per hour. Less in some places.
If your company is paying you more than $30 per hour (to account for training and communication costs), you should have an assistant.
If your time feels constrained and your bandwidth limits the success of your team, you should hire an assistant.
What should you have your assistant do? Up to you, but I would suggest starting with everything you can possibly, have her or him do. (This advice stands for your team too; as a CEO, delegate everything you possibly can.)
I hired my first assistant when my company had $250k in funding and no revenue. Was it a luxury? No. It opened up bandwidth for me and helped us run better as a team. Yours, well-equipped, can do the same for you.
Here are a handful of tips I have gleaned from 10+ years of leveraging an assistant:
Start virtual. I have tried virtual and in-office, and I much prefer virtual. While Lennie and I are quite close, virtual removes many of the management overhead of in-office.
Keep all projects and tasks in one place. Lennie and I work off a shared Trello board that is always up to date with any active or pending projects. She keeps detailed notes updating projects as they go. If I want to know the status of anything, I can check there. This cuts down on communication overhead.
Pick one channel for communication. Lennie and I use WhatsApp (mostly because Internet service is spotty on the dairy farm 😂). This keeps all conversations searchable and mobile.
Have your assistant build the training manual for any future assistants as they go. That way, if you ever have turnover, the new assistant can get up and running quickly.
Put expectations, preferences, and any necessary instructions in writing in a central location. I love Notion for this.
Consider having your assistant take on as much as they can in both your work and personal life. If you choose to do this, set the expectation on the front end before hiring. I view all of my time as limited, and I want my assistant to take everything she possibly can off my plate. This includes paying my property taxes and scheduling family travel.
I am continually surprised by how many early-stage CEOs I meet who possess sufficient budget and constrained time but are not effectively leveraging an assistant. If that's you, give the above recommendations a try. I would love to hear how it works out for you.
I appreciate that you are here. If you were forwarded this email and it resonates, you can subscribe here.
What did I miss by way of recommendations? Feel free to respond to this email and let me know.
With love from LA,
Matt
Looking for some support? If now is the time to consider coaching (or a CEO peer circle) reach out here.
Sanity Notes Newsletter
Join the newsletter to receive semi-weekly updates in your inbox.